The Stakeholder QuickScan
With the Stakeholder QuickScan, we provide insight into the positions of relevant stakeholders by means of desk research. This provides insights like stakeholders' assessment of our customer or the relevance of opinions on a particular issue. A clear graph displays the force field and this visualisation can serve as a stepping stone for further stakeholder engagement.
Our QuickScan draws a good picture of how stakeholders (such as scientists, NGOs, knowledge institutions, politics) are (actively) engaged in relevant issues and what opinions they have. We show where opinions differ, where potential opposition can be expected and which stakeholders may well be ambassadors.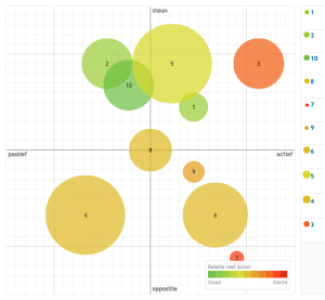 The size of the dots indicates the level of opinion leadership of different stakeholders per issue. The colour reflects the stakeholder's current customer relation: green represents a positive attitude, orange is neutral and red indicates a negative relation.
The results can be used as an initial analysis, with the QuickScan procedure to be repeated over a longer period. This allows for monitoring the effectiveness of stakeholder management.