French presidential elections: a turning point
On 24 April, French voters will elect their president for the next 5 years. It is the third time that the far-right party "Rassemblement National" is reaching the second round, highlighting the struggle of a fractured society and a political landscape in need of change.
Five years ago, the current president emerged as a new political figure, the youngest president ever elected, with his new political party "En Marche!" focusing on "start-up culture" and a strong stance in international relations. He then represented an alternative option to the traditional right-wing ("Les Républicains", a centre-right conservative, inspired by the ideology of De Gaulle) and left-wing ("Parti Socialiste" also called PS). The perception of Emmanuel Macron has now changed: he is no longer a novel choice, but an institutionalized one. And he will be held accountable for the results of his first term.
A campaign polarized by the far-right
Presidential campaigns can be repetitive and rather dull – this year, the French media welcomed a rather interesting new player: Eric Zemmour. More well-known for his journalistic and writing work, Zemmour presents controversial views on immigration and Islam in France. He has extensively supported the "grand remplacement", a conspiracy theory contending that France's native population will be replaced by non-European people. If he officially announced his candidacy on 30 November 2021, the first suggestion for his candidacy dates back to 2019 – monopolizing the spotlight at an early stage. During his campaign, he was often opposed to Marine Le Pen, forcing the far-right candidate to assume a more moderate position to differentiate herself. For instance, she came back on her previous proposition to leave the European Union and instead suggested to "get out of the EU electricity market" and "lesser our contribution to the EU budget".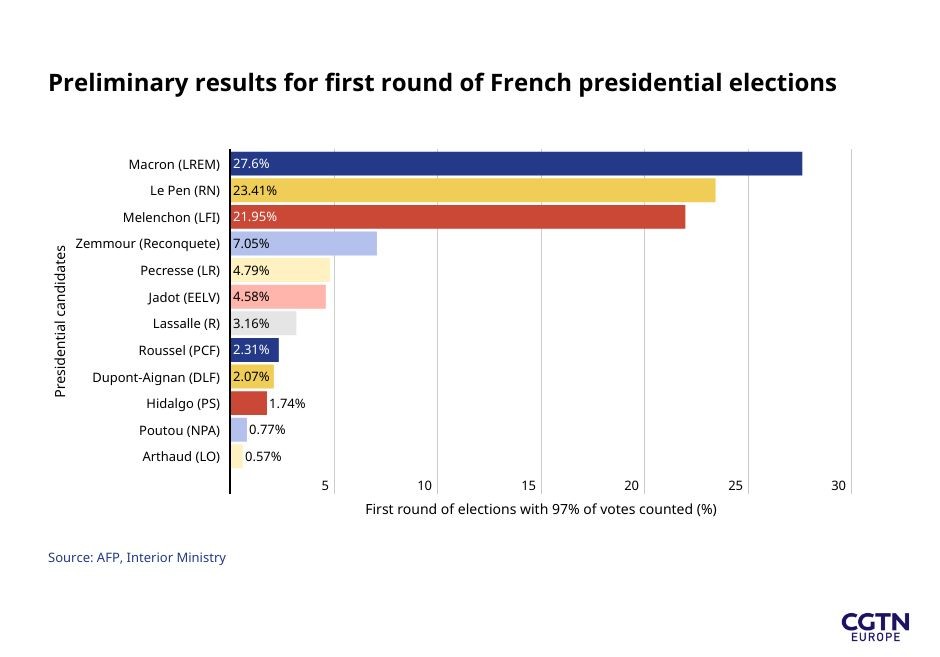 Voters had to choose between no less than 12 candidates in the first round of the elections. Among them, no fewer than 7 left-wing hopefuls including the Socialist, Anne Hidalgo, the Greens leader and Member of the European Parliament, Yannick Jadot, the hard-leftist Jean-Luc Mélenchon and the Communist, Fabien Roussel. The high number of left-wing candidates divided once again voters, who preferred voting for the candidate preferred in polls, Mélenchon. The Greens equally failed to build on the "green wave" that recently came across European politics.
A new French political landscape
Once France's leading political parties, the Socialist Party and Les Républicains achieved their lowest scores in a French presidential election on 10 April. These poor results will have a direct impact on the survival of the parties: according to French legislation, only candidates gathering at least 5 per cent of the votes will be refunded their campaign expenses. Valérie Pécresse, the candidate for Les Républicains, already announced that she will have to face at least a 7 million euros deficit. Most analysts are calling the 2022 presidential election "the death of French traditionalist parties".
Time is also of the essence: if re-elected, 2022 will be the start of Macron's last term as a candidate may be elected for a maximum of 2 terms. His party, heavily focused on his political personality, might not survive him. Mélenchon who is now 70 years old, might not candidate in 5 years. Marine Le Pen is younger, but has now to face the competition of the new party founded by Zemmour, "Reconquête".
The upcoming parliamentary elections, which will take place in June 2022, might mark the first step towards a refurbished French political landscape.
---